Why D2S Bi-Xenon Projector?
The Aozoom D2S bi-xenon-projector lens is made for aftermarket retrofit to have the performance of OEM headlights. Essentially, it is the upgraded version of the Hella 5G projector, which is the most widely used original equipment projector in the world, such as the projector on E55. The high beam of the E55 projector is outstanding cause Hella 5G sacrifices the low beam hotspot to for having a high beam that penetrates for hundreds of yards. But, when Aozoom D2S was released, it changes the thing. This projector inherits the outstanding high beam of Hella 5G and enhances the low beam pattern, which produces a very wide beam pattern with a perfect distribution of light and tops it off with a supremely sharp cutoff and strong hotspot that will blow your mind.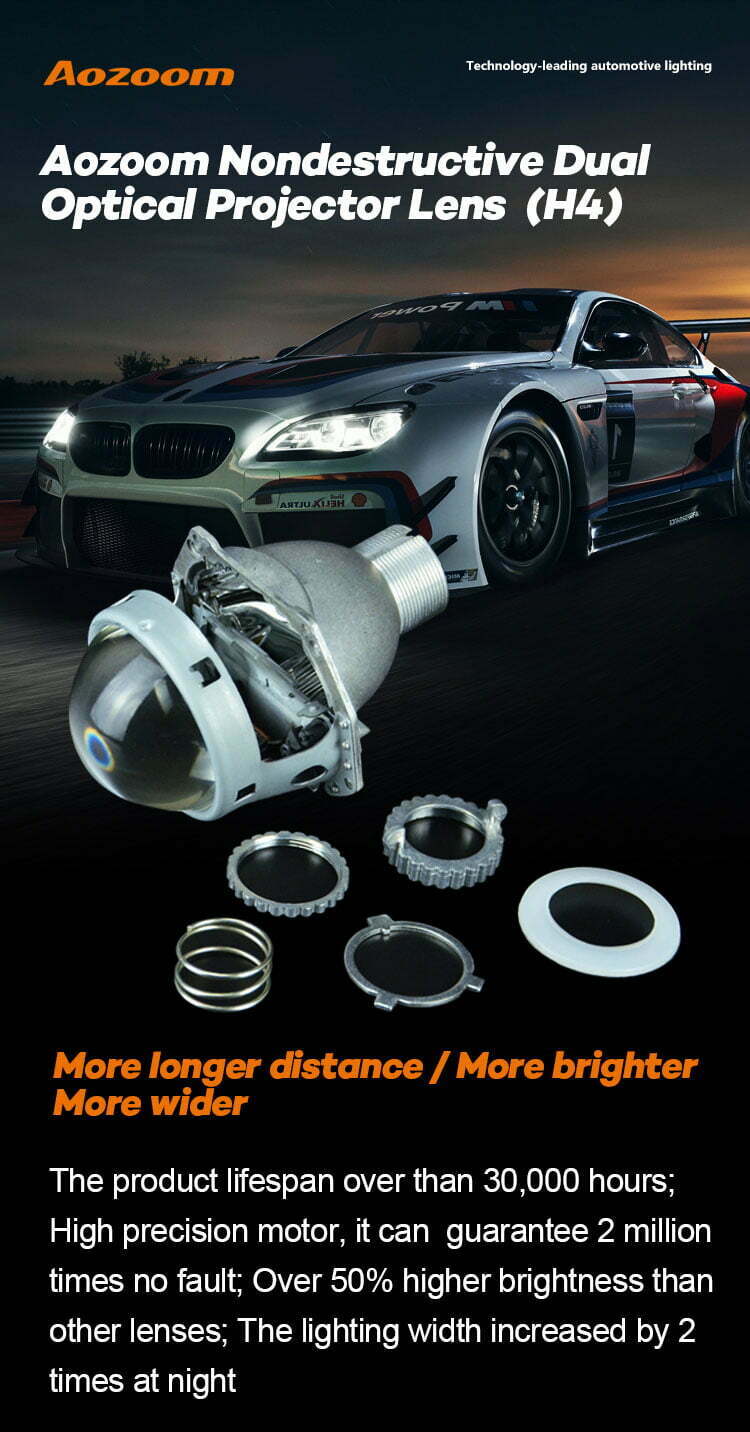 What is the Secret?
Again, like other bi-xenon projectors on the market, Aozoom D2S is capable of producing both low and high beam patterns. Their side-pole solenoid mechanism creates reliably low beam and high beam pattern when actuated. And the straight fully die-cast shield makes the light output very consistent. The low beam pattern of this projector is designed by advanced optics and hotspot system and will create a wide beam pattern with a uniform distribution of light, which will cut through the darkness at night just like a laser headlight. The cutoff line is sharp, clean and full of brilliant color flicker. For the high beam, there's plenty of light reserved for use here to penetrate for hundreds of meters at night.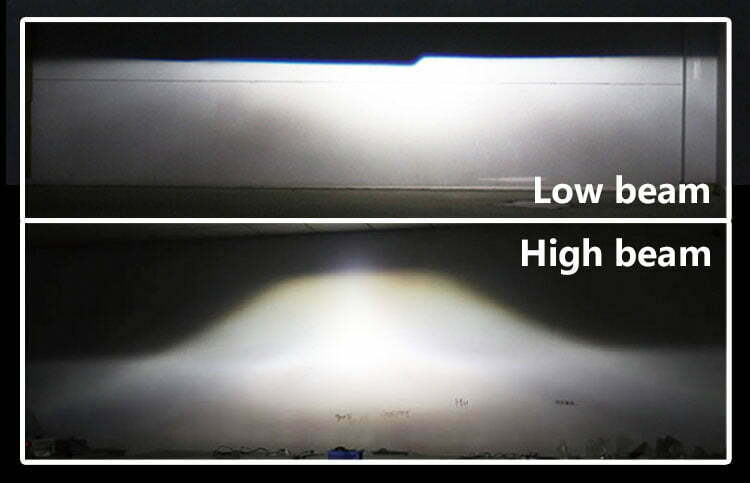 What is the Color?
Aozoom D2S bi-xenon projector is compatible with 35W, 45W, 55W HID kit with 3000K 4300K, 5000K, 5500K, 6000K, 8000K lights for options.
Installation Summary
The Aozoom D2S bi-xenon projector lens has the threaded mounting shaft on the backside for somebody who wants something that is fairly easy to install. On an H4-based headlight reflector as an example ... Remove the headlight lens, put the threaded mounting shaft with the pre-existing hole in the rear of the reflector, add the alignment plate, tighten the lock ring, as well as re-seal the headlights. For other applications to H1, H7, H11, H13, 9005, 9006, 9007 headlight housing, minimal cutting will probably be required but you'll find the outcomes well worth it!
Compatibility
D2S bi-xenon projector is only compatible with D2S HID bulb cause it inherits the basic structure of Hella 5G for replacement many OEM Hella 5G old housing that uses these design.
If you are looking for a projector compatible with D1S D2S D3S D4S, you can choose our RTX projector lens.

Dimension
Depth: 140mm
Width: 112mm
Height: 95mm
Lens diameter: 3 inch
Mounting Shaft: 25mm diameter
What's included?
2 PCS 3.0'' Metal Bi-xenon Headlight Projector lens, each piece is put on one box;
2 PCS Lock Rings, Bulb Caps, Etc
2 PCS SOLENOID INPUTS
Warranty
24 months
MOQ
20 Kits,
No quantity limited to sample order.
---
Why Aozoom
Are you looking for a reliable supplier with strong R & D ability, consistent quality, 24 -365 after-sale service, and on-time delivery? There you come to the right place.
Located in Guangzhou, China, Aozoom is a Hi-tech enterprise for automobile lighting products manufacture with integrated development, production and sales. Our main products are digital HID xenon Ballast, HID xenon bulbs, HID bi-xenon projectors, LED projectors, LED interior and exterior lights.
Besides the Guangzhou Factory, which produces ballast, xenon bulbs, and some LED products, Aozoom also has a factory in Jiangshu. With these two factories capacities, Aozoom is capable of supplying automobile lighting products to Auto manufacturers and aftersales upgrading industry in China or overseas. In China alone, there are more than 2000 individual auto lighting franchise stores, and over 10 overseas country-level distributors.
To fulfill the large scare orders each day, Aozoom built a strong back up Team with 30+ team members just to make sure each order is delivered on time. All products are stocked, based on the sales data accumulated through the years. 24 hours shipment is consistent target.