Why E55-R Retrofitting Hid Headlight Projector?
We have the 3" E55-R retrofitting projectors which is a little special. It doesn't have the mounting shaft at the rear and you will need to have more skill and invest more time on retrofitting this thing into your headlights, but having said that you will be rewarded with a fantastic light outputs. The beam pattern is very, very, very bright and plenty well distribute. It is based on the industry-standard D2s bulb and we make it work with all industry-standard d-series bulbs D1 D2 D3 and D4. So for those of you who are using Hella base halogen or even laser performing hid projectors, you can swap in the E55-R projector and retain using your factory bulb, no rewiring change needed, and you can pump out a lot more performance with this project in the headlights compared to the factory option.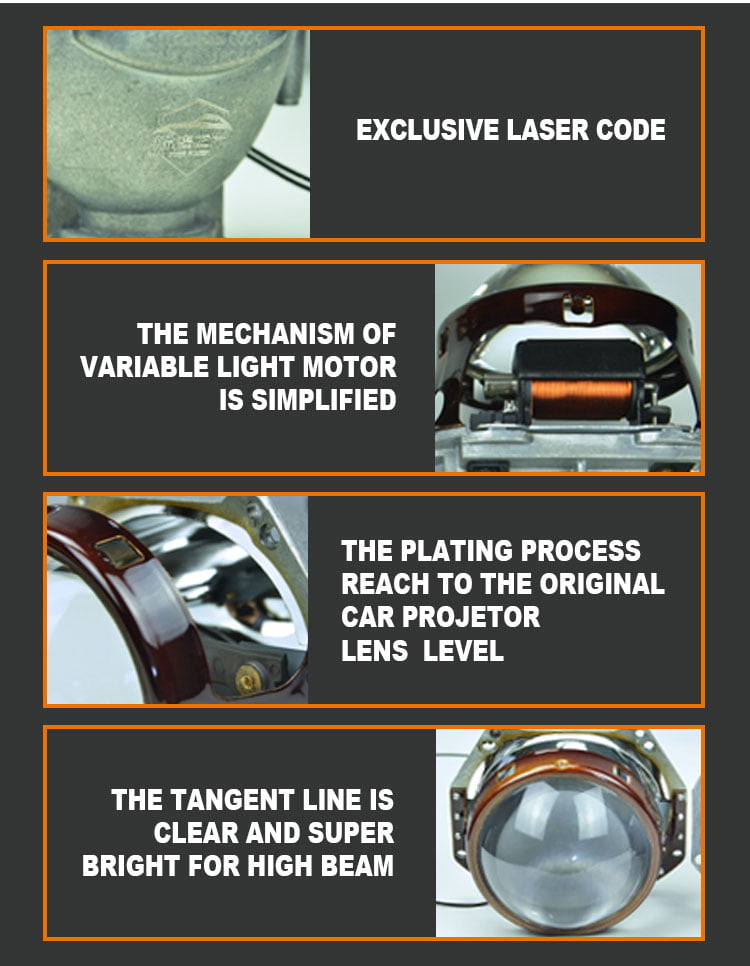 What is the Secret?
E55-R Bi-xenon projector combines the features that the low beam pattern of Q5 projector and the high beam pattern of Hella E55 projector have. Thanks for the 3.0-inch full clear lens and the advanced Optics inside. The low beam pattern by this monster is extremely wide, full of brilliant color flicker, and a concentrated hot spot in the center. And the high beam has wide beam pattern and maximum visibility for the user on road that will penetrate for hundreds of meters. Like the D2S projector, it does use a very high-quality, very reliable side pole solenoid mechanism that creates a very consistent and reliable high beam pattern that won't get stuck.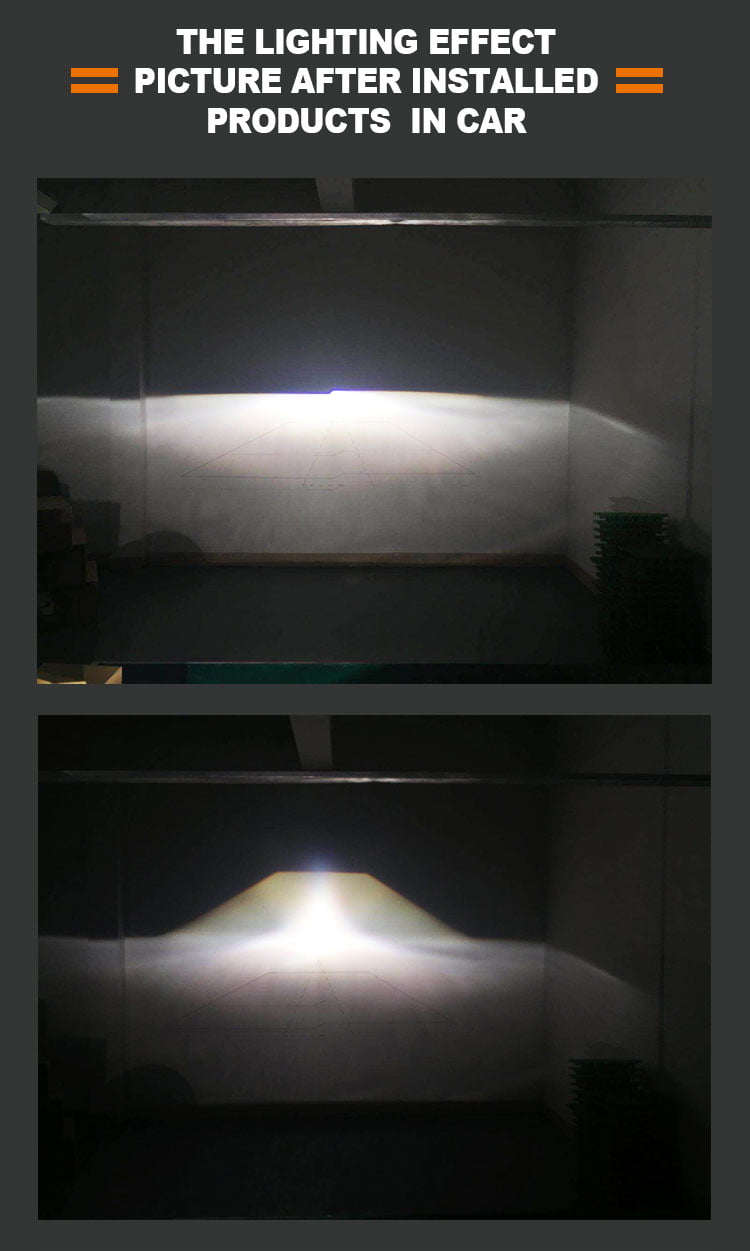 What is the color?
3" E55-R Retrofitting bi-xenon Projectors is compatible with 35W, 45W, 55W HID kit with 3000K 4300K, 5000K, 5500K, 6000K, 8000K lights for options.
Installation Summary
Be prepared to put in your time and effort if you want to go with the E55-R projector to do your retrofit. Park car, mark stock beam-height on wall, disassemble headlight, cut original reflector to fit projector in place, re-mount modified headlights without lens cover, illuminate projector, then tack it into place using the reference height/level using epoxy gum.
Compatibility
it work with all industry-standard d-series bulbs, including D1S, D2S, D3S, D4S. If you are using Hella base halogen or hid projectors, you can upgrade to E55-R projector and retain using your factory bulb, no rewiring change needed.
Dimension
DEPTH: 155mm
WIDTH: 112mm
HEIGHT: 95mm
Lens diameter: 3 inch
What's included?
PROJECTORS: 2x Aozoom E55-R 3.0 Bi-Xenon Projectors, each piece is put on one box;
SOLENOID INPUTS: 2x 9006 Male Sockets;
Warranty
24 months
MOQ
20 Kits,
No quantity limited to sample order.

Why

Aozoom

Are you looking for a reliable supplier with strong R & D ability, consistent quality, 24 -365 after-sale service, and on-time delivery? There you come to the right place.

Located in Guangzhou, China, Aozoom is a Hi-tech enterprise for automobile lighting products manufacture with integrated development, production and sales. Our main products are digital HID xenon Ballast, HID xenon bulbs, HID bi-xenon projectors, LED projectors, LED interior and exterior lights.

Besides the Guangzhou Factory, which produces ballast, xenon bulbs, and some LED products, Aozoom also has a factory in Jiangshu. With these two factories capacities, Aozoom is capable of supplying automobile lighting products to Auto manufacturers and aftersales upgrading industry in China or overseas. In China alone, there are more than 2000 individual auto lighting franchise stores, and over 10 overseas country-level distributors.

To fulfill the large scare orders each day, Aozoom built a strong back up Team with 30+ team members just to make sure each order is delivered on time. All products are stocked, based on the sales data accumulated through the years. 24 hours shipment is consistent target.