AOZOOM HID Bulb
Nowadays, the technology of HID production has been so mature that almost any HID manufacturers can produce shitty HID product. At the same time, more and more suppliers choose to purchase a lower price raw material for saving the cost of production, this helps them to get the advantage on price competition and promote the sales... But the quality of AOZOOM's FBL bulbs is uncompromised. Constantly strive for excellence is the spirit of enterprise for AOZOOM.
What's FBL
FBL = faster, brighter, and longer. It is our top performance HID bulbs. On top of the long lifespan, high precision, and outstanding performance, FBL HID bulb has increased by 50% Lumen value in the output. The Austrian-sourced Plansee electrodes help keep the bulbs running brighter for longer.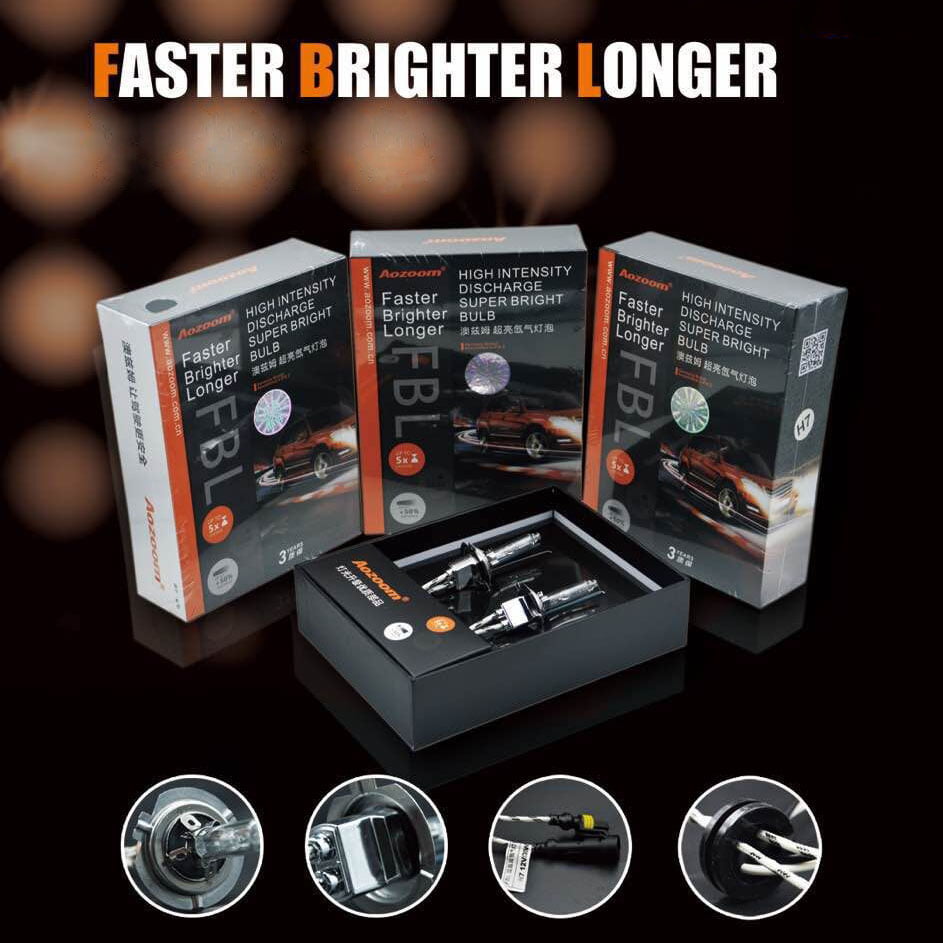 OUTPUT
At the heart of the FBL D2S hid bulbs is their perfectly aligned 100% Philips quartz glass that houses a capsule from APL-USA. Intensity isn't a concern that surely shows in their output ranging from 3800-4000 lumens per bulb at 35W.
COlOR
FBL D2S HID bulb produce lighting at 5500K, nearly the same as the Osram CBI bulb. It offer you a white light output with a little yellow, The light at this Kelvin rating has better penetration compared to pure white light and will give users a maximum distance visibility at night.
WIRING
The FBL replacement D2S HID bulbs are built to industry-standard size specifications and are compatible with all ballasts with "AMP" outputs - making them a perfect match for a replacement bulb or upgrade!
CONFIDENCE
We provide a 3 years warranty and after-sales service for the item. Within the warranty, all broken hid bulbs can be returned and replaced by a new one. And our after-sales teams will offer technical support to our agents and distributors for any products problem or installation problem. Aozoom built a strong back up team with 30+ team members including electronics and structural engineers and just to make sure that while problem occurs, our team can follow up the case promptly and offer the solution through analyzing the cause of defects.
SPECIFICATION
Bulb size: D2S
Wattage: 35W and 55W
Color: 5500K
Lumen Output: 4000lm per bulb (Estimated)
Base Available: H1 H7 H8/H8/H11 9005 9006 D2H 9012