Aozoom ABN 02 Rapid Start Ballast
Aozoom ABN series is our rapid start ballast. Compared to ABO series, it doesn't have a built-in CANBus circuit as most Japan brand vehicles don't require CANBus ballast. ABN series is excellent on high compatibility, low defective rate, it is no double to be a high performance and reliable ballast. Next please allow me to give you an overview to this product.
The Advanced
Housing the Japan SANKEN IGBT Chips exclusive for Automotive, AOZOOM ABN ballast is excellent on the constant performance, high work efficiency and impact resistance. In the whole circuit design, the work efficiency of ABN ballast can reach 92%.
The ABN rapid start ballast has the featured of rapid start function, which could reach steady state flux 80% in 2 seconds, and 100% flux in 3 seconds, providing around 3200 lumens on a quality 4300K Bulb. It accepts a 9-16V range for input and will power all HID bulbs with industry-standard AMP connectors.
The circuit board is fully sealed by superior AB glue. It is shockproof, waterproof and high-pressure resistant.
AOZOOM ABN rapid start ballast presents a open-circuit fault protection for the output current. If the HID bulb went out suddenly under the open situation, the ABN ballast can light up the bulb quickly and automatically in 0.1 seconds.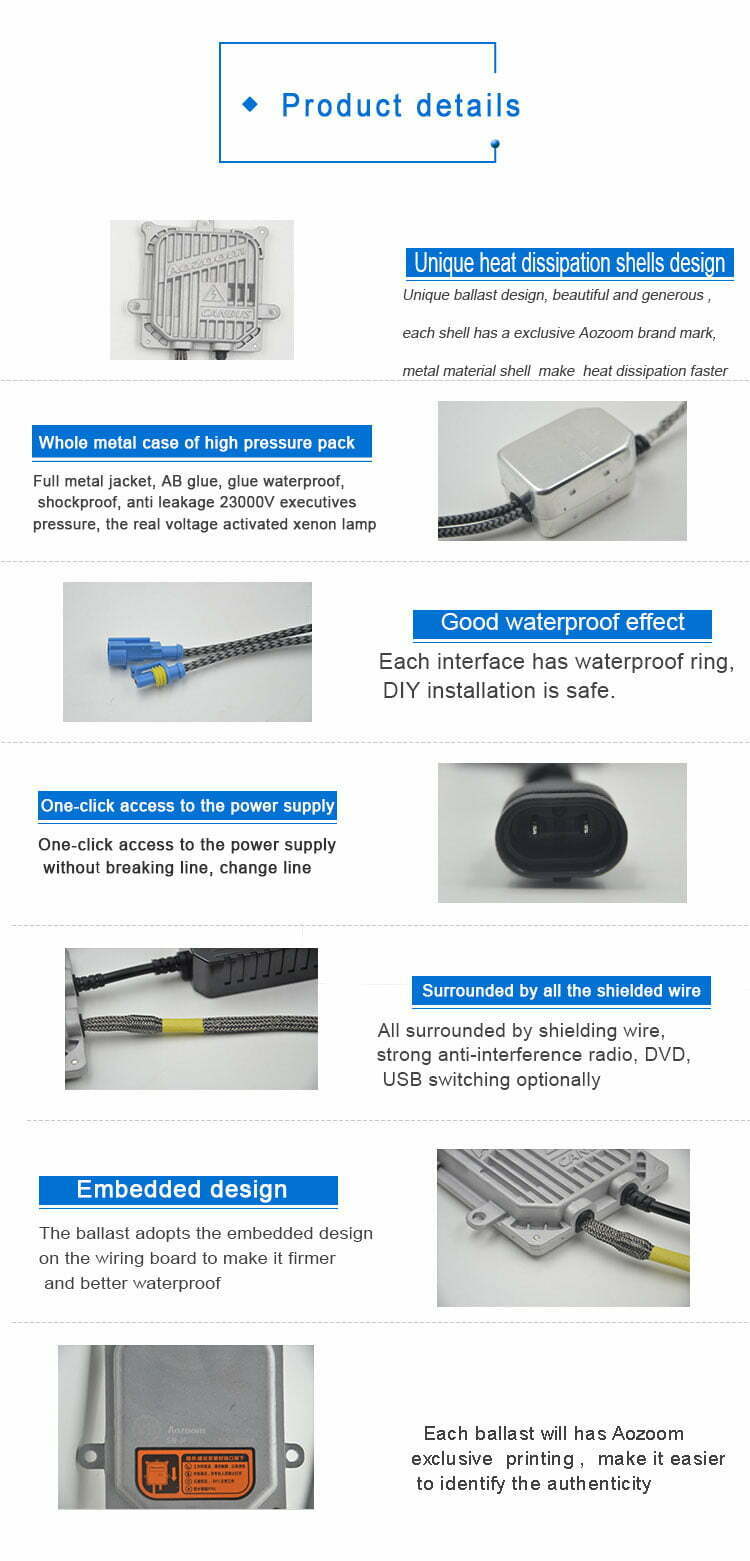 Compatibility
The igniter cord can be unplugged from the ballast, you can easily change from AMP to D2S or D1/D3. If an igniter does happen to go bad, it can easily be replaced as well.
Evolution
After many years of accumulation in the Asian market, we have made multiple improvements to the product according to the undesirable issues. Now, the defective rate of AOZOOM ballast can be controlled under 0.3%. Moreover, the ballast is power with the constant power, no matter how input voltages changes, our ballast can provide output power stably to the HID bulb, making the variation of output power less than 1%, which can extend the working lifespan of ballast and HID. We provide a 3 years quality assurance and after-sales service for the all ballast series products. If the ballast is broken within 3 years, we will replace a new for you.
Standard
The anti-electromagnetic interference of AOZOOM ballast follows the S95/54/EC standard, and the waterproof reachs IPX6 standard
Quality Control
AOZOOM has a strict QC standard. All the series ballasts from AOZOOM must be inspected 30 thousand times of stroboscopic detection and aging for 24 hours before shipment. The vibration test, waterproof test (in grade), salt spray test and damage test will be conducted for the sample inspection in proportion from the large cargo. We promise to deliver the best products to our clients.
Model
H1, H7, H3, H11, 9005, 9006, 9012, H4, 9012, D2H, etc Available.
Technical Parameters
Power: AC 35W / AC 45W Available
Input Voltage: 9-16V
Starting Current: 6A
Rated Current: 3.2A
Output Lumens: 3200LM - 4000LM